Tuesday 7 April 2020, 08:09
Consorzio di Promozione Turistica di Padova
The Tourism Promotion Consortium of Padua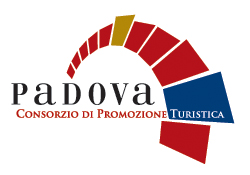 Padua, the heart of Veneto region. 30 minutes from Venice and Vicenza, 50 from Verona and Treviso.
Hotels, lodging facilities, restaurants, travel agencies, navigation companies, tourist guides, congress centres, tourist facilities and shops.
It is a whole range of enterprises, professional workers and freelancers working in the territory of the province of Padua that can let the visitors better appreciate the beauty and quality offered by the territory through their services in terms of: art, culture, religion, science, business, nature, health, wellness...
The mission of the Consorzio di Promozione Turistica di Padova (Padua Tourism Consortium) is the promotion of the area of Padua and its province and the commercialization of its tourist product.
The Consortium groups together the principal tourist companies and promotes their supply, interpreting and responding in the best way to the needs of who is coming to visit Padua.