Tuesday 30 August 2016, 01:25
Consorzio di Promozione Turistica di Padova
Why Padua?
For... its central position in the Veneto region: 30 minutes away from Venice and Vicenza by car, 50 from Treviso and from Verona; 60 minutes away from the sea and the Lake Garda

For... visiting an art city rich in monuments and important frescoes.

For... going around on boat along the canals of the city or on a short cruise to discover the Venetian Villas of the Brenta Riviera, among art and nature.

For... a travel in history through strongholds, castles, walled cities and abbeys of the territory.

For... visiting the Villas and the gardens, discovering the architecture and art of the ancient and noble residences surrounded by monumental gardens or parks.

For... a walk in the green Regional Park of the Euganean Hills, for a wine tasting in its wine cellars or a tasting of its natural products.

For... discovering and tasting the products of the local tradition.

For... a day of shopping among the typical small shops and the fashion brand shops


Slide show presentation of Padua and its territory



Download Powerpoint (.pps, 45 Mb)



Download PDF (.pdf, 18 Mb)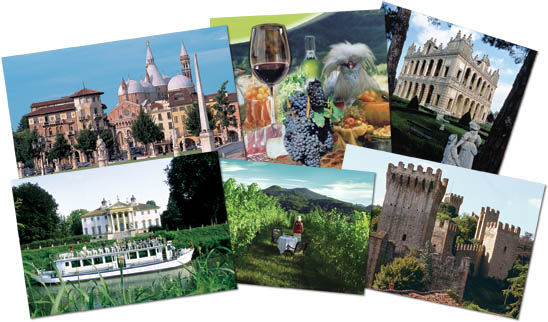 BOOKING ONLINE
Short boat trips in Padua, free for selected...

Book your airport-city centre transfer on-line...

Discover Padova with the red City Sightseeing...

Congress Centers

DMC & Travel Agencies