Saturday 4 April 2020, 22:55
Consorzio di Promozione Turistica di Padova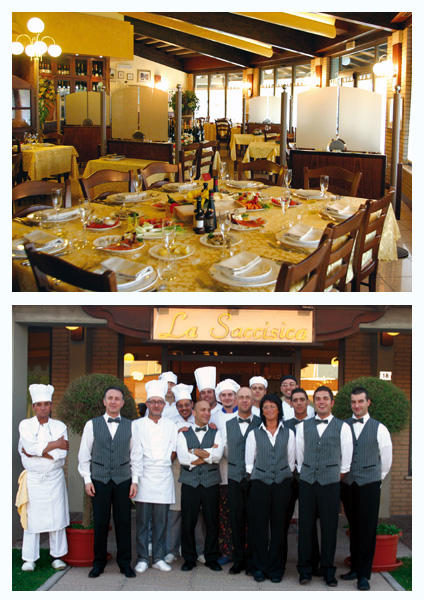 Ristorante Enoteca La Saccisica
via Adige, 18
35028 Piove di Sacco (PD)
Phn.: +39 049 9704010
Fax: +39 049 9704010
E-mail: mail@mail.it
web: www.web.web
The restaurant wine bar was born in 2000 with the intention of offering menus mainly based on fish because of the close distance to Chioggia and the local tradition of tasting the typical products of the lagoon that is only 10 km away.
Every day we try to recreate the morning atmosphere of the fish market on your tables giving priority to the seasonal products that are daily offered in different cooking styles but also pickled and raw. Moreover for those who prefer meat we offer a wide range of snacks, starters, t-bone steaks and grilled meat.
The well provided wine list offers the right matching with the different dishes and the possibility to taste wine in order to find the right matching between food and wine.
Our special dishes:
Tuna tartare and pickled carpaccio
Schie (small Venetian shrimps), spider-crabs, razor-clams, collars
Stewed rockfish and St Pierre
A selection of our homemade pastries.
Google Map bloccata. Per visualizzare questo contenuto è necessario dare il consenso all'utilizzo dei cookie di terze parti e ricaricare la pagina.