Saturday 4 April 2020, 22:36
Consorzio di Promozione Turistica di Padova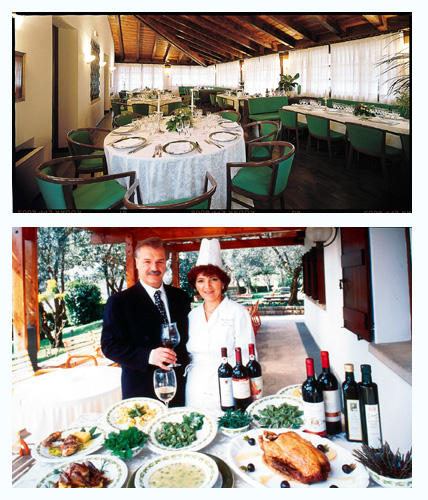 Ristorante La Montanella
The restaurant is surrounded by a wonderful garden with flowers of all colours and age-old olive trees, from the terrace there is an incomparable view on the Paduan plain and on the medieval town of Arquà Petrarca that hosted the great poet Petrarca in the last years of his life on the South of the Parco Colli Euganei (protected area in the Euganean Hills). The food is prepared by Biancarosa and is based on the traditional dishes taken also from historical texts, as for example the gosling with fruit (Paduan dish of the 17th century) and the ham cooked in wine (original recipe of the 15th century).
The dishes proposed combine the season with the typical products of the area. Don't miss the olive oil of our olive trees and the best wines of the Euganean Hills together with other 400 labels chosen accurately by Giorgio.
The family started the business in 1952 with Aldo and Elsa, Giorgio's parents, and still today welcoming their guests and letting them feel at ease is a commitment and a pleasure for them.
Our special dishes:
Taglierini (noodles) with Paduan Chicken meat sauce
Montagnana sweet raw ham with courgette pie
Soup with porcini mushrooms flavoured with truffle served in crust
Taglierini with asparagus and shrimps
Stewed rabbit with mushrooms
Pigeons in "peravada" sauce
Cake with pears and ice cream
Google Map bloccata. Per visualizzare questo contenuto è necessario dare il consenso all'utilizzo dei cookie di terze parti e ricaricare la pagina.