Sunday 31 May 2020, 14:44
Consorzio di Promozione Turistica di Padova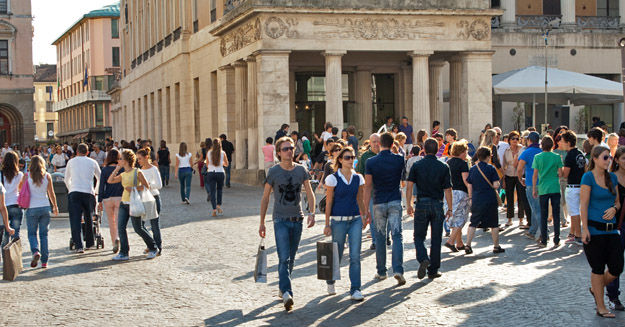 Shopping Streets in Padua, Italy
Padua is an art city, with art exhibitions, surrounded by nature, but also a business and trade city with an important development in business tourism. Trade has always been an excellence of Padua, a city built on the point of convergence of the river Brenta in the North and the river Bacchiglione in the South. It has developed a widespread navigation activity on rivers thus becoming a point of reference for the trade directed from the internal areas to Venice being at the meeting point of the large navigable rivers Brenta and Bacchiglione and has cultivated the interest for trade for centuries giving birth to usages and customs characterising its economic fabric and making it the city of trade, arts and crafts
Trade and handicraft have been connected with the city for centuries since the late Medieval Age when the rebirth of the urban centres was characterised and promoted by craftsmen's shops working iron, textiles, ceramics and glass. In the city centre of Padua there are still shops where you can appreciate the quality, the skill, the refined taste of objects, products and services made with high professionalism.
In the city there are cultural itineraries that can be easily matched with shopping itineraries. For example a cultural-commercial itinerary is the route from the square Prato della Valle to the Basilica of Saint Anthony and further through via del Santo street to Zabarella palace, seat of art exhibitions, following via Zabarella street, a side street of via Altinate and to Eremitani square where there is the cultural area with the museums of Padua.
Along this itinerary there are 300 shops with different commercial activities including religious articles in the area of the Basilica of Saint Anthony, cakes and pastries, antiques, gifts and fancy goods, fashion, accessories, clothes, branded perfumes, ceramics, handicraft of gold, ceramics and wood products.
Another itinerary, the typical fashion street, starts from via San Fermo street to Galleria Borromeo arcade with a lot of shops of the most famous fashion brands, ateliers, perfume, leather and watches
Also in the province you can find important handicraft of wood for country or style furniture and restoration of antique furniture in the area of Montagnana and Casale Scodosia; handicraft of ceramics and wrought iron in the area of Este and Monselice; handicraft of marble and trachyte in the hills area
There is an important presence of artistic handicraft in the surrounding area: another reason to stay here and buy a product that represents the history of its territory.
Padova
Abano Terme
Albignasego
Vigonza